INDUCTION PROGRAM 2022
"AARAMBHAN"
FOR FIRST YEAR B.Tech. STUDENTS ADMITTED DURING THE ACADEMIC YEAR 2022-23
INAUGURATION PROGRAM
on 31st Oct 2022 in the presence of Society Secretary Mrs. Anima Ubeja, President Management Core committee Mr. Gurmeet Singh Ubeja,Management Member Mrs. Archana Nayak, Principal Dr. Sapna Arzare and coordinators first year engineering department Mr. Sandeep Dongre ,Mr. Sadiq Khan, Mr. Pankaj Sanawa including first year faculty members.
FAMILIARIZATION OF DEPARTMENTS
SPEAKER: All Head of Departments
Incoming new students were told about credit, grading system and examination. They were informed about how study in college differs from study in school. They were also be taken on a tour of the college and shown important points such as library, canteen, and other facilities.
They were shown their department, and told what it means to get into the branch or department. We Described what role the technology related to their department plays in society and after graduation what role the student would play in society as an engineer in that branch. lecture by alumnus of the Dept. was very helpful in this regard. They were also be shown the laboratories, workshops and other facilties.
SPEECH ON SARDAR VALLABH BHAI PATEL JAYANTI BY MR. PANKAJ SANAWA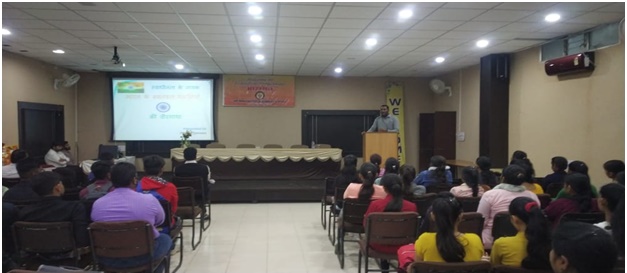 Sardar Patel Jayanti was celebrated on 31st October to aware the students for his immense contribution towards nation. Sardar Vallabhbhai Patel also known as Sardar Patel was the first Deputy Prime Minister of India and a veteran freedom fighter. He played a significant role in the integration of post independence India and during the Indo-Pakistan war of 1947. While working as the Deputy Prime Minister, he also held the portfolio of the Union Home Minister of India. His sheer determination and exceptional administrative qualities in dealing with small princely states to concede with Indian dominion, has earned him the sobriquet "Iron man of India".
INDOOR GAMES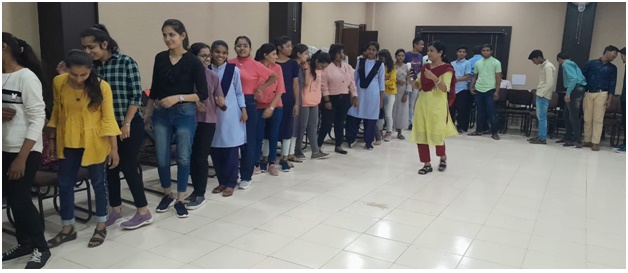 The institute recognises the importance of sportsman spirit and team effort for students. This can be learned in congenial environment through sports and games. For this the Campus has adequate sports facilities and state-of-the-art infrastructure.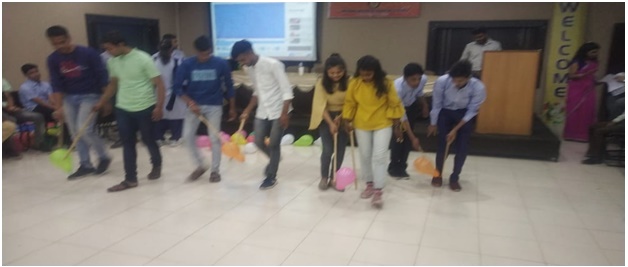 A number of inter and intra college sports events are organized throughout the year to enable the students to develop a spirit of healthy competition and team effort. The Campus has adequate sports infrastructure e.g. Cricket, Volleyball, Football, Badminton, Table Tennis, Chess and several other indoor and outdoor games. All the new admitted students was played different games In Seminar Hall like:
Baloon Game.
Save the Baloon.
Pick the Cup.
PHYSICAL EXERCISE ON TERRACE (ZUMBA)

Zumba classes work as a large calorie-burn hack made possible through aerobic activities by keeping interval training in mind. An average person burns around 600 to 1,000 calories in a Zumba class. The classes provide an intensity of exercises, in both paces of music and type of movements. And, the energy expenditure is maximized for fat-burning benefits. All the students performed zumba with great energy under the guidance of Mrs. Rachita Dongre.
All the students performed zumba with great energy under the guidance of Mrs. Rachita Dongre.
SPEECH ON MADHYA PRADESH FOUNDATION DAY BY
DR. SAPNA ARZARE
Madhya Pradesh is celebrating its 67th Foundation Day today. The new state of Madhya Pradesh came into existence on the First of November 1956 as a result of the reorganization of states in 1956. This state was formed by merging the erstwhile Central Provinces CP & Berar, Madhya Bharat, Vindhya Pradesh and Bhopal.
LECTURE ON U.H.V. (RESPECT) BY
MRS. DEEPALI GANDHE.

To improve the holistic approach in life and as per the guidelines of AICTE a lecture on universal human values has been given by Mrs. Deepali Gandhe on UHV (Respect).
Among the five cores human values he emphasis on Respect. To know our basic aspiration. Two interactive sessions have been conducted during the lecture which helps the students to incorporate the importance of UHV in their vision in their life.
CREATIVE PRACTICE(RANGOLI ART )

Rangoli is the ancient cultural tradition and folk art of india. There may be variation in the name and style of rangoli in different regions, but there is a lot of similarity in the underlying spirit and culture, that is why we have considered the art of engineering college students organizing rangoli to display done on college campus.
LECTURE ON PHYSICAL HEALTH AWARENESS BY
DR. PANKAJ JAIN & DR. DILIP HINDUJA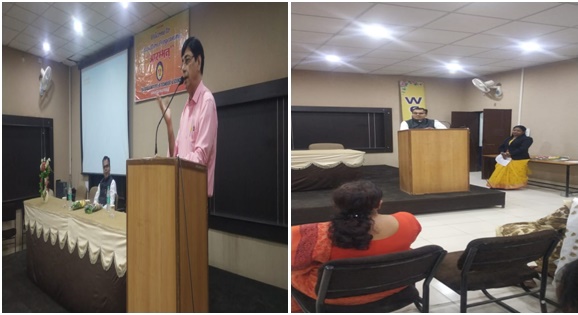 The main goal of this Lecture is to develop students' physical competence and knowledge of movement and safety and also helps in the development of an active and healthy life style.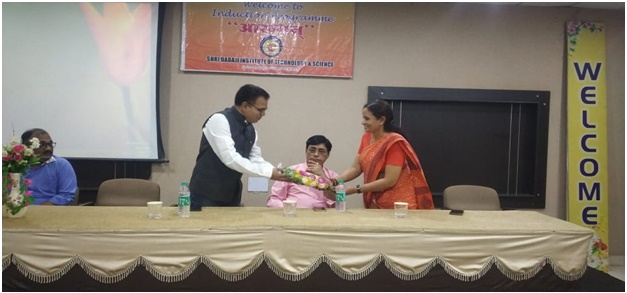 Dr. Pankaj Jain told about physical health and also told about ways to improve it and Dr. Dilip Hinduja told about mental health and how to improve it by different mental exercises.
PHYSICAL EXERCISE (YOGA)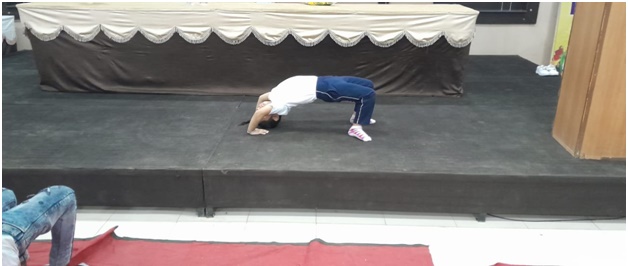 One days Yoga session was organised by Mrs. Shruti Tomar. The students were given an insight into the Yoga Culture in India by leading them through a practice session of various Yoga postures (Asanas) breathing exercises (Pranayama) and mindfulness (Meditation ).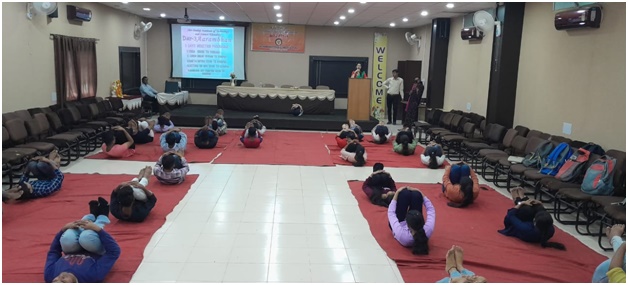 They were also introduced to various yogic concepts through a brief lecture session to encourage the students to take up the practice of yoga in order to improve their mental health, reduce stress and increase relaxation.