INDUCTION PROGRAM 2021
"AARAMBHAN"
FOR FIRST YEAR B.Tech. STUDENTS ADMITTED DURING THE ACADEMIC YEAR 2021-22
INAUGURATION PROGRAM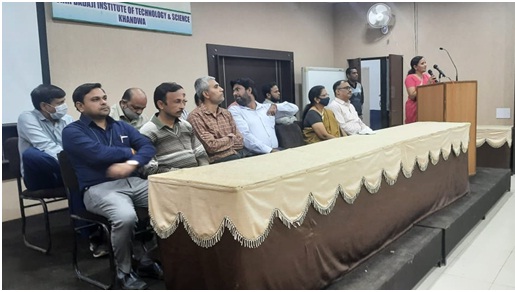 Inauguration Program was conducted on 09th November 2021. for the newly admitted First Year. B. Tech students during the academic year 2021-22. Principal Dr. Sapna Arzare and coordinator's First Year Engineering Department Dr. Shahnawaz Sheikh, Mr. Sandeep Dongre and Mr. Sadiq Khan and First year Faculty members addressed the students.

FAMILIARIZATION OF DEPARTMENTS
SPEAKER: All Head of Departments
Incoming new students were told about credit, grading system and examination. They were informed about how study in college differs from study in school. They were also be taken on a tour of the college and shown important points such as library, canteen, and other facilities. They were shown their department, and told what it means to get into the branch or department. We Described what role the technology related to their department plays in society, and after graduation what role the student would play in society as an engineer in that branch. lecture by alumnus of the Dept. was very helpful in this regard. They were also be shown the laboratories, workshops and other facilties.
INDOOR GAMES
The institute recognises the importance of sportsman spirit and team effort for students. This can be learned in congenial environment through sports and games. For this the Campus has adequate sports facilities and state-of-the-art infrastructure.
A number of inter and intra college sports events are organized throughout the year to enable the students to develop a spirit of healthy competition and team effort. The Campus has adequate sports infrastructure e.g. Cricket, Volleyball, Football, Badminton, Table Tennis, Chess and several other indoor and outdoor games. All the new admitted students was played different games In Seminar Hall like:
Do What we say
Number Jumble
Find Your Friend
A Balloon game
By Committee Members: Mr. A. paliwal , Mrs. Anjum Khan, Mr. S. Khan and Mr. Deepak Kaushal
PHYSICAL EXERCISE ON TERRACE (ZUMBA)

Zumba classes work as a large calorie-burn hack made possible through aerobic activities by keeping interval training in mind. An average person burns around 600 to 1,000 calories in a Zumba class. The classes provide an intensity of exercises, in both paces of music and type of movements. And, the energy expenditure is maximized for fat-burning benefits.
All the students performed zumba with great energy under the guidance of Mrs. Rachita Dongre.
LECTURE ON PHYSICAL HEALTH AWARENESS BY:
DR. MALIKENDRA PATEL & DR. DILIP HINDUJA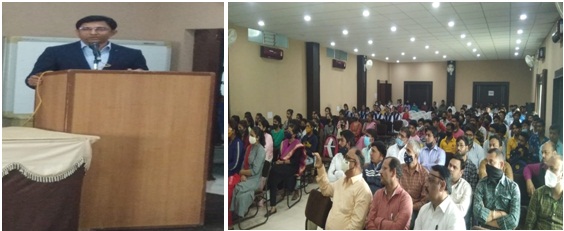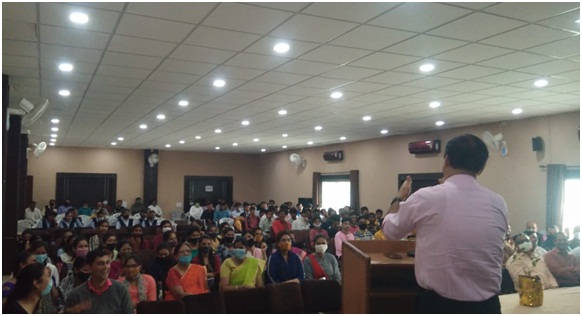 The main goal of this Lecture is to develop students' physical competence and knowledge of movement and safety and also helps in the development of an active and healthy life style.
Dr. Malikendra Patel told about physical health and also told about ways to improve it and
Dr. Dilip Hinduja told about mental health and how to improve it by different mental exercises
INTRODUCTION WITH ALL FACULTIES & STAFF MEMBERS
This time our college adopted a different and unique method of introduction of the faculty with the new students. This time we introduced each faculty & staff by writing the name of other faculty & staff on a slip. The students were greatly entertained by this process.
LECTURE ON U.H.V. (TRUST/HONESTY)
To improve the holistic approach in life and as per the guidelines of AICTE a lecture on universal human values has been given by Asst. Prof. Deepak kaushal on UHV (trust & honesty). Among the five cores human values he emphasis on happiness and trust. To know our basic aspiration. Two interactive sessions have been conducted during the lecture which helps the students to incorporate the importance of UHV in their vision in their life.
CREATIVE PRACTICE(Rangoli Art )
Rangoli is the ancient cultural tradition and folk art of india. There may be variation in the name and style of rangoli in different regions, but there is a lot of similarity in the underlying spirit and culture, that is why we have considered the art of engineering college students organizing rangoli to displaydone on college campus.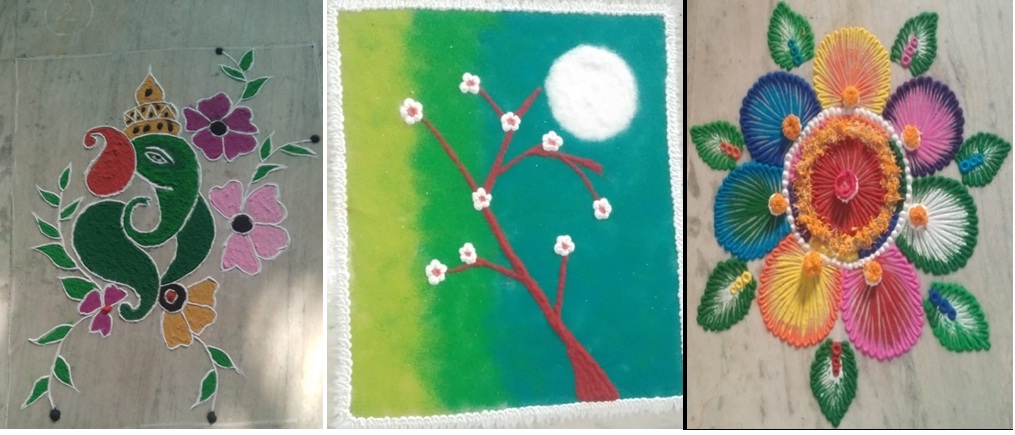 VISIT TO HISTORICAL PLACE: NIHALWADI
A visit to famous historical place Nihalwadi was organized for the students. The aim of a visit to historical place was to create a kind of bonding as well as awareness about history or city and to observe their way of living and understand the values and ethos of simple living, high thinking.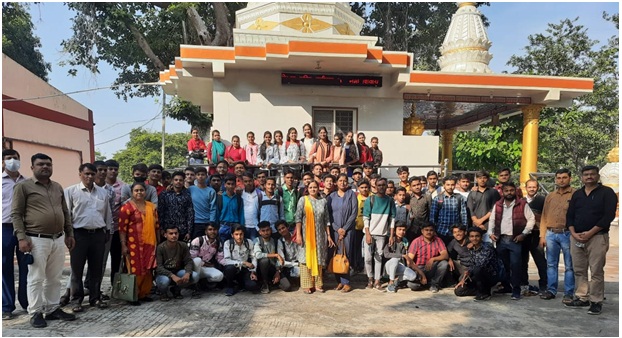 This exposure was expecting the entrants to display an empathetic eye and to attach values for the development of self and thereby society at large.
PHYSICAL EXERCISE (YOGA)
One days Yoga session was organised by Mrs. Manisha Jaiswal & Mr. Lakhan Gir. The students were given an insight into the Yoga Culture in India by leading them through a practice session of various Yoga postures (Asanas) breathing exercises (Pranayama) and mindfulness (Meditation ).
They were also introduced to various yogic concepts through a brief lecture session to encourage the students to take up the practice of yoga in order to improve their mental health, reduce stress and increase relaxation.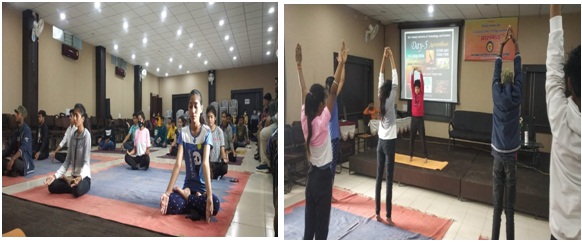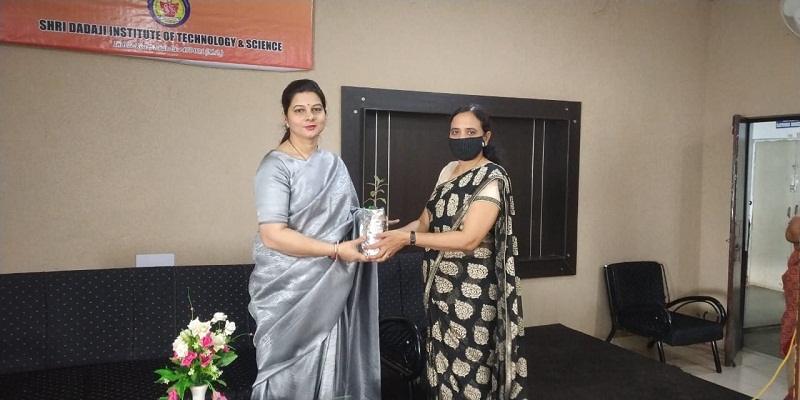 JIGYASA SAMVAD WITH Mrs. Anita Chouhan BY Ms. Jaya Jain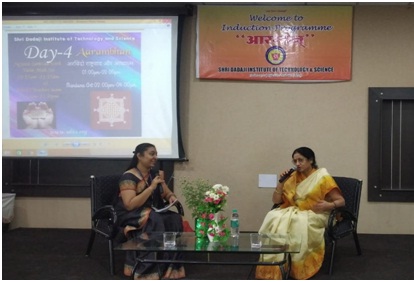 Jigyasa samvad program was organized on day-IV of the induction program aarambhan 2021 in which two renowned & eminent personalities Mrs. Anita Singh Chouhan, founder of seed society, owner of old age home and Mr. Ghanshyam Yadav founder of Divine spirits with his team were invited the program was of about 2.5 hours duration, there was a between the guests & students on how to start for social services for individual and society and how to become a responsible person in life.
Lecture on U.H.V. (CARE)By Mr. Niteen Mali, Asst.Engineer Singaji Tharmal Power Plant , and his Team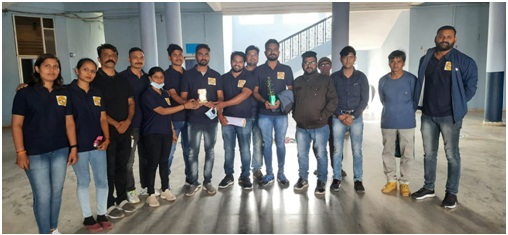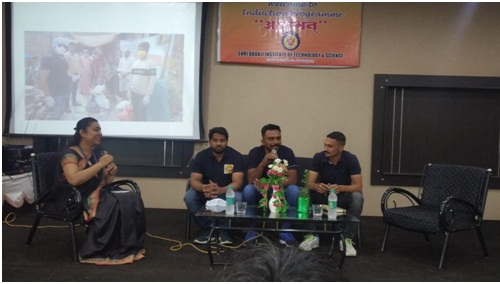 MANDANA PAINTINGS
Mandana paintings are wall and floor paintings of Rajasthan and Madhya Pradesh, India. Mandana are drawn to protect home and hearth, welcome gods into the house and as a mark of celebrations on festive occasions. This time our college made the engineering students aware of the new technology as well as the old culture, that is why we got mandana painting done in our college in which the boys and girls participated enthusiastically.
SPORTS
The students engaged in sports have good academic performance in college. The students evolve the coordination and enthusiasm for the studies as well as the sports that is why we organized some programs to make them understand the need of sports which is as follows-
CHAIR RACE
LEMON SPOON RACE
SHORT PUT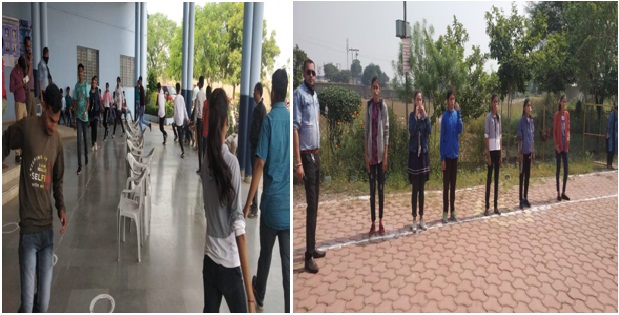 LANGUAGE PROFICIENCY/ LITERATURE BY Mr. Shrikant Sakalle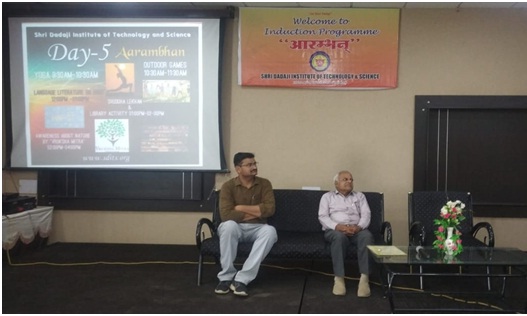 Respected Mr.Shrikant Sakalle explained in detail about the history of Hindi language and the importance of Hindi language in his lecture to all newly admitted students. During this lecture, he explained to all the students that there should not be any kind of hesitation or shame in speaking Hindi language.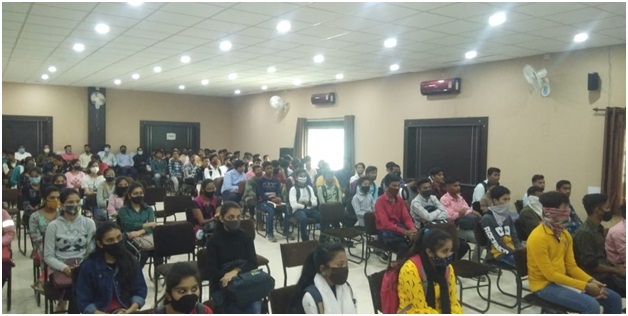 competition was conducted by Mr. Sandeep Dongre sir, Asst Prof. SDITS on 13 November 2021. First year students participated in this competition and learned how to enhance their listening and writing
LIBRARY GAME
In this game activity, we have given the book name hint in front of students. And give them time to search the book name or it's number. First we distribute the "library hunt activity paper's" then Student goes in library and start to search the book name and number and write the name of book and number in the paper.
Student's enjoyed this activity. Through this game we introduced the new students to the library.
VRIKSHA MITRA BY MRS. ANKITA SONI & Her Team Members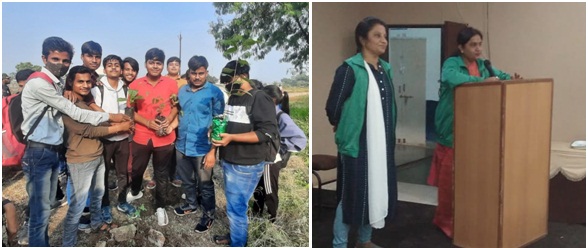 Mrs. Ankita Soni told all the students about planting trees and protecting them, her also told that how important trees and plants are for our life and without them our life is impossible. After that she and all her team members planted trees with students.
GRAND CEREMONY SINGING & DANCE COMPETITION

Shri Dadaji Institute of Technology & Science organized singing and dance (Solo & Group) Competition of new students for talent and entertainment , in which many students participated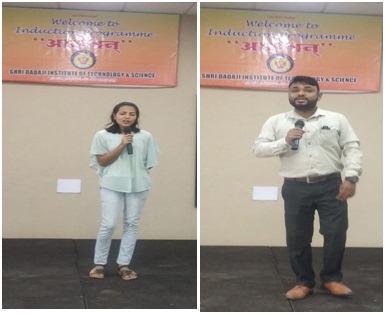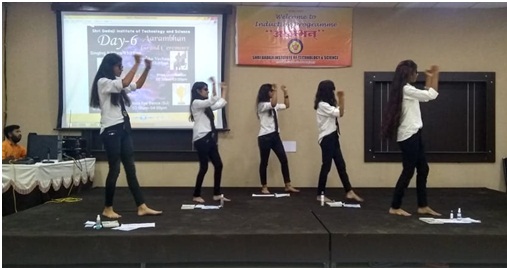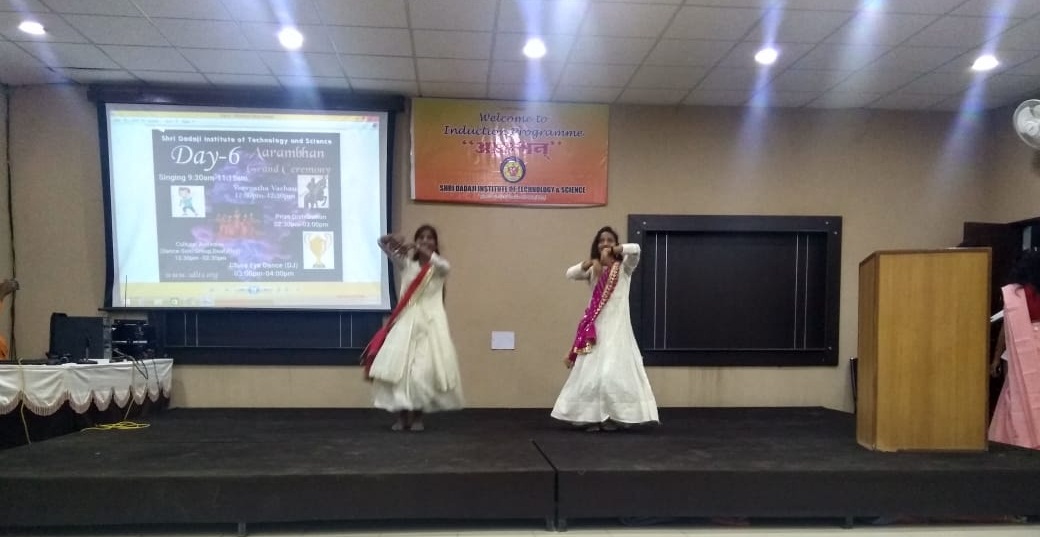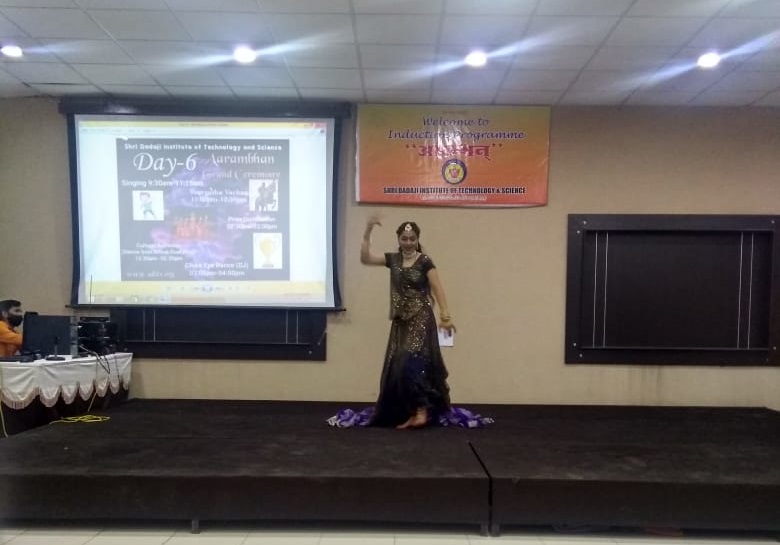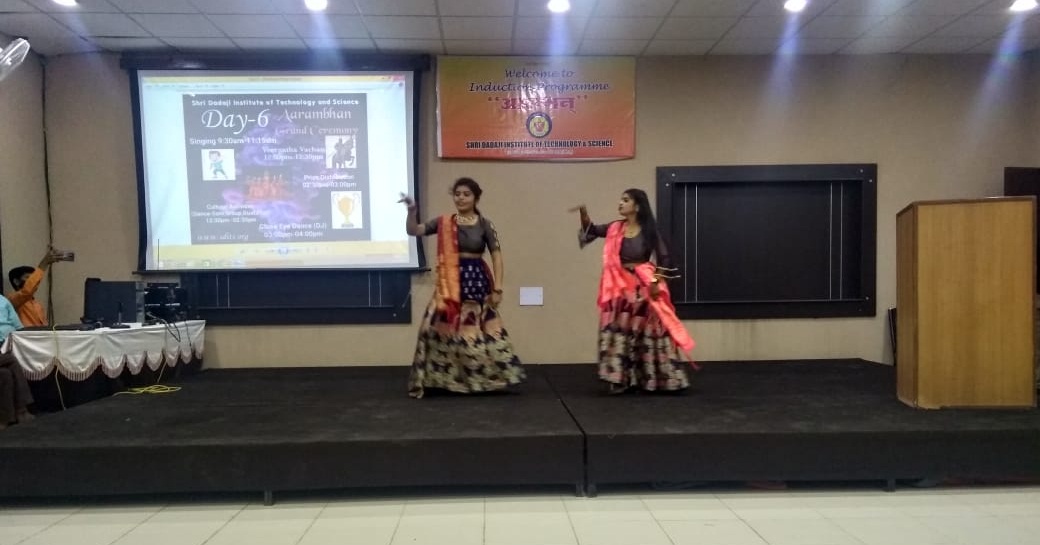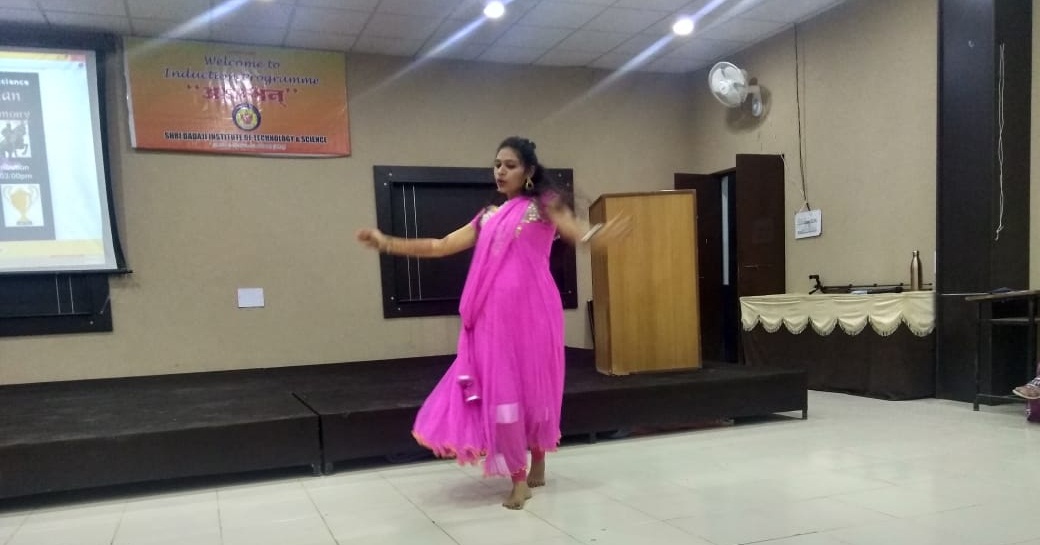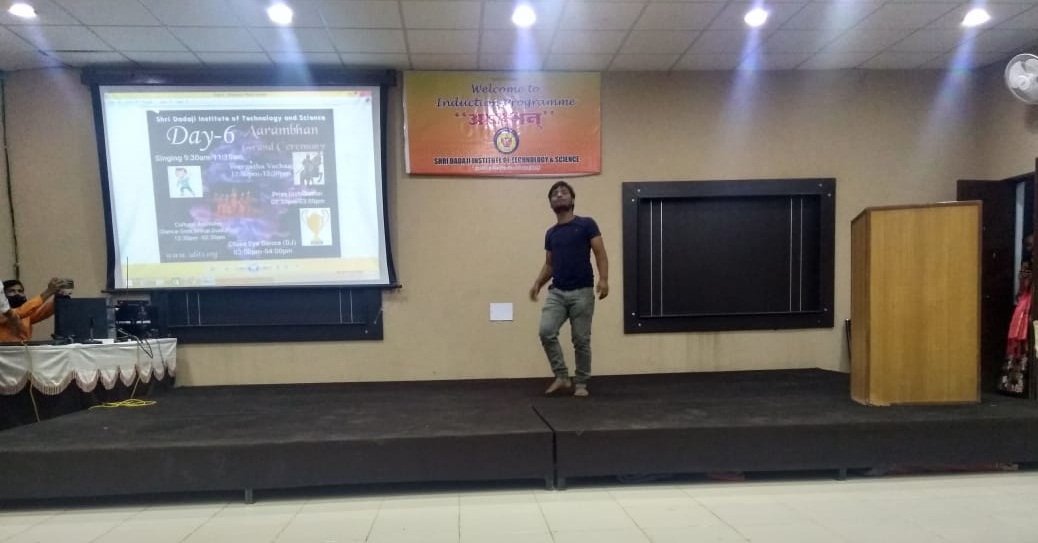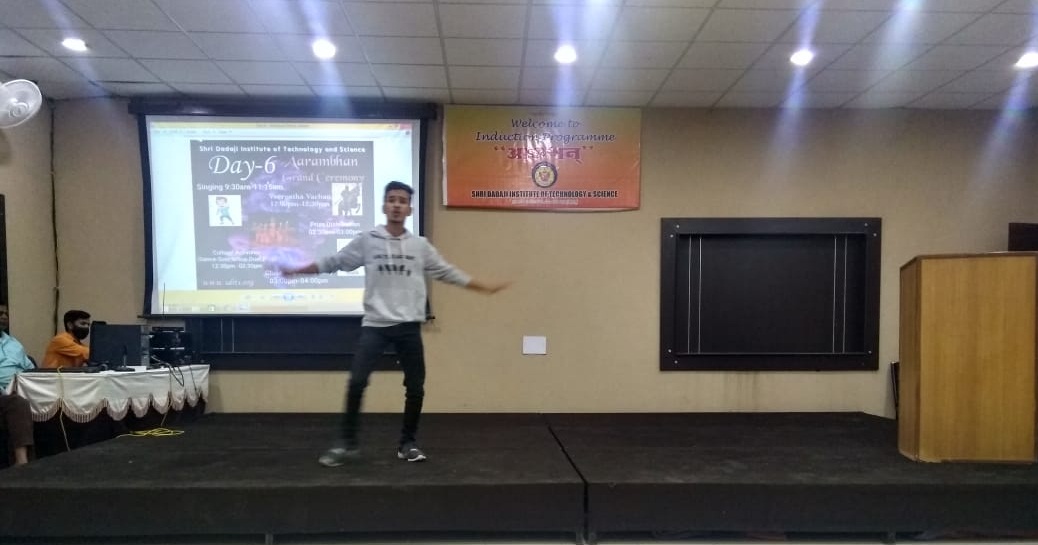 VEER GAATHA VACHAN
During the reading of veergaatha, Asst. Prof. Mr.Pankaj Sanawa From Electronics & Comm. Department gave information about such a revolutionary of india Mr. Vipin Chandra Pal & Madam Bhikaji Cama who had played a very important role in india's freedom struggle.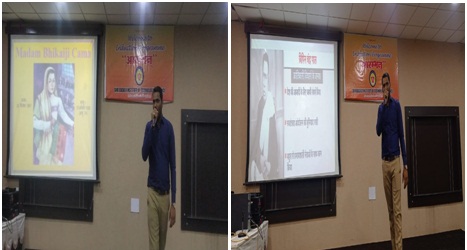 PRIZE DISTRIBUTION
The students were awarded first and second prizes in different competitions by Dr. Sapna Arzare(Principal S.D.I.T.S) and all the Head of departments.